Preview
Leaders Celtic are zeroing in on a five successive SPL title and boss Ronny Deila will look to avoid any slip-ups against visitors Inverness Caledonian Thistle.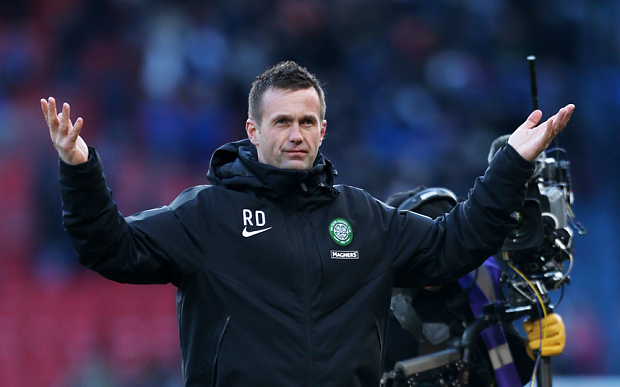 Travelling to Celtic is like walking into a tough East End boozer and threatening to chin an old hard-man in a long leather jacket with a big reputation these days. You know that the sixteen-stone bloke with the scarred face and broken nose was a real handful in the past, but he may have looked like is getting a little blasé recently. Think of Caley Thistle as a young challenger with their tracksuit bottoms tucked into the socks, a Burberry baseball cap on their heads and a cut-throat razor hidden in their jacket pocket - game as anything and with a bit wild Highland spirit.
Celtic know that every side is after their scalp and most people in Scotland would love to see a side outside of the Glasgow giants win the League, if only to shake things up a bit. Their dominance of the game North of the Border has made it, frankly, predictable and just a little stale – and while everyone in the pub will pat the old hard-man on the back and buy him a pint after he's beaten off another young challenger, you get the feeling that secretly a lot of them would love to see him fall while the battle is on. That's the perfect allegory of the Scottish game.
If Caley Thistle can go to Celtic Park and symbolically smash a few glasses and overturn the tables, then you just know that the 'hard-man' will hit back and beat the living daylights out of the next challenger. Celtic are still THE team to beat and until Rangers can get themselves back on track to put in a serious consistent challenge, then the game will remain a series of bar brawls that the ageing gangster watches with a little humour and distain while he rakes in all the cash.
Celtic's squad strengthening during the January transfer window has made them even harder to beat and the bookies have them as hot favourites to take the points again in this match. Celtic haven't been at their most fluent best this season under Ronny Deila, but they still have the ability to grind out results and when they do suffer a defeat it's still a bit of a surprise. Put it this way, you can get odds of around 18/1 on Caley Thistle pulling off a win. In a two-horse race? But don't get too tempted by dreams of a big pay day. Celtic's home defeats are rare as rocking horse droppings, man. Forget about it. The hard-man will not fall on Saturday, and the visitors did them a massive favour on Monday night by coming from behind to beat title rivals Aberdeen 3-1. The Dons trail the Celts by three points and although they have the chance to draw level again when they play Partick Thistle on Friday night, they'll have played two games more.
They think it's all over? Not quite yet - but it's coming.
Celtic Recent Form WWWLLW
Inverness CT Recent Form DWWLDW
Head-to-Head record:
29/11/2015 Inverness CT 1 Celtic 3
15/08/2015 Celtic 4 Inverness CT 2
24/05/2015 Celtic 5 Inverness CT 0
11/04/2015 Inverness CT 1 Celtic 1
01/11/2014 Celtic 1 Inverness CT 0
Possible Line-ups
Celtic (4-4-2) – Gordon, Lustig, Boyata, Sviatchenko, Tierney, Bitton, Brown, Mackay-Steven, Johansen, Armstrong, Griffiths.
Inverness CT (4-4-2)- Fon Williams, Raven, Warren, Devine, Tremarco, Tansey, Vigurs, Mbuyi-Mutombo, Draper, Williams, Storey.
Injuries/ Suspension
Celtic: Janko (inj), Simunovic (inj).
Inverness CT: Brill (inj), Foran (inj), Fisher (inj).
League Positions
View full league table