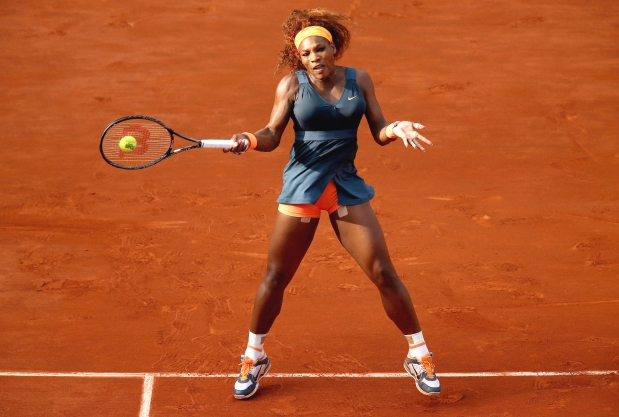 Roland Garros and the French Open have not been as kind to Serena Williams, the top seed, as other surfaces and other Grand Slam events. The red clay in Paris has been good enough for Maria Sharapova, the two seed, who has won this event twice in the last four years but will prove her downfall in 2015. In fact, the two top picks Serena Williams (11/4) and Sharapova (5/1) have short odds that don't reflect the way they have been playing or the quality of the competition.
Maria triumphed at the Italian Open but the pros know she can be had. Williams bypassed Rome to rest her elbow which will surely be tested on clay. There's a reason Serena's odds are longer than usual. She will not win in Paris in 2015 where she has only escaped the second round once since 2010.
There are better wagers out there than these two. Look young! The 2015 field is more wide open than any women's Grand Slam event in years. This open could well be decided between the ears because the clay can neutralize Sharapova's power game. If Kvitova (12/1) can focus or if Halep (11/2) can settle and play her game or if Caroline Wozniacki can conquer big match jitters, the tournament could well belong to that player who is toughest mentally. We figure that to be long-distance runner, Caroline Wozniacki (25/1).
Her newfound stamina and quickness will serve the fifth seeded Dane well in Paris. The draw, well, that's another matter. The top bracket has Serena and Azarenka (a third round paring), Venus Williams, a former champion, and dangerous German Andrea Petkovic. There's plenty of fight there but Wozniacki is in the best shape in the top.
You never know what Kvitova will bring to the table. Seven steamy matches on slow clay probably do not work well for the 4th seeded Czech. And 6th seeded Canadian Eugenie Bouchard is in a second year slump. The door might be open for Madison Keys to make a run in the weak bottom half of Page One.
Page Two
The lower half of the draw is led by the gritty second seed Maria Sharapova. Sharapova will face an immediate first round challenge from unpredictable lefty Kaia Kanepi. Samantha Stosur will compete in the third round and if Sharapova is still alive, Lucie Safarova will test her in the fourth round.
It won't get any easier with Spain's Carla Navarro Suarez lurking in the quarters. Seeded eighth, Navarro Suarez had success in Rome and prefers clay.
Romania's tenacious Simona Halep can't be happy with her year thus far, but Paris could be her breakthrough event for the frequent flyer. Simona can force the extra shot and that works well on clay. Ivanovic has won here before and would face Simona in the quarters but Halep will have to hold off 14th seeded Aggie Radwanska, another 2015 underachiever, fourth round.
You can never count Maria out but Halep should emerge from the lower half before falling to Wozniacki in the championship match. The balance in this field poses difficulties for the favorites. Take longer odds with finely tuned Wozniacki and you won't regret it.